March 2, 2020
The first Prom Committee meeting is underway and you're looking for the best prom ideas- epic prom ideas.  The year is 2020 and someone suggests, The Roaring 20s!  I mean it's perfect, right? Now what?  Where do you go from here?    Take one this suggestion one step further with the ideal theme.  There are some great iconic 1920s songs, phrases, and cultural images that come to mind that would make the perfect prom theme.  This was the age of Jazz, the Charleston dance craze, the Great Gatsby, Swing music and dancing, New York jazz clubs, Chicago gangsters, flappers, and speakeasies.
Our top ten roaring 20s theme suggestions:  All That Jazz – The Great Gatsby – Dixieland Ballroom – Swing City Blues – Rhapsody in Blue – Puttin' on the Ritz – The Cotton Club – Ragtime Ball – Southside Swing – Windy City Speakeasy or Chicago Speakeasy or even better look up some of the names of your hometown historic speakeasies!
You've picked your theme now choose the colors you're going to use for everything from the invitations to the decorations.  The classic style for the 1920s era was Art Deco and a great color scheme for any of these prom themes is black, gold, and white.  If you choose Swing City Blues, replace the black with blue.  If you use Rhapsody in Blue, try using blue, black and white/gold.
Depending on your chosen theme, add to your list of decorations jazz musician silhouettes, a Rolls Royce cut out, art deco columns, or a backroom speakeasy backdrop.  Table decorations of white plumed feathers or an art deco style light with each table named for a 20s dance, slang phrase, or person: The Bees Knees, The Cat's Pajamas, The Lindy Hop, Bugsy's, or Capone's.  Placemats made to look like newspaper headlines captured from the 1920s would make a great keepsake to use for scrapbooks with pictures.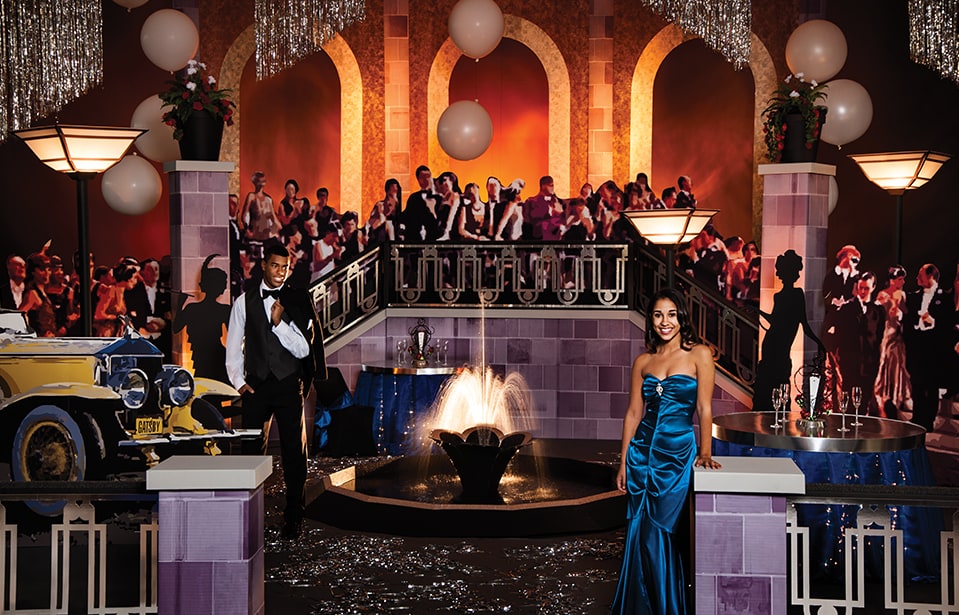 Get a photo frame or photo album keepsake engraved with the prom theme name and your class year using an art deco font.  Each printing service offers its own selection of fonts and most likely will have an  "art deco" font.  Some other common fonts would be: Bernhard Fashion, Blakely, Broadway, Metropolis, Mona Lisa Recut, Mostra, and one of our favorites, Silvermoon.  Be sure to pick up props with headbands, gangster fedoras, beads, feathers, and lace fans for great keepsake photos. Check out our favorite decor and favor retailer Anderson's!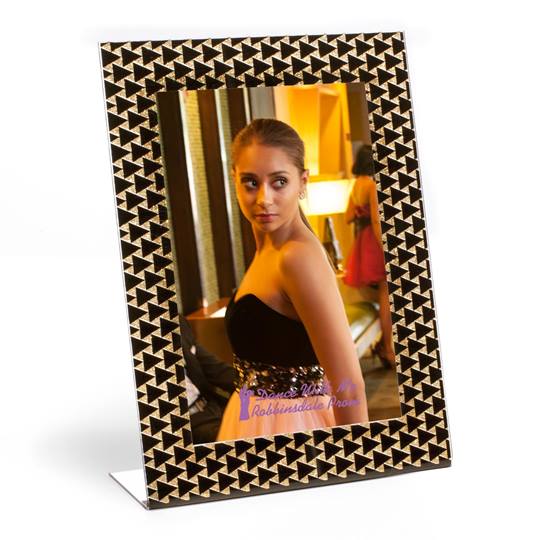 Now, to make prom not just a dance, but an EPIC experience.  What's great about having a theme based around the Roaring 20s are not just the amazing decoration ideas, but activities you can have leading up to prom to get your classmates excited and involved in prom.
Here are just a few ideas to get everyone ramped up for the big day.  Host a silent movie night in the school auditorium, you could even talk to the band director and get the school orchestra to play music for the films!  Contact the local historical society and host a 1920s fashion show to get your classmates in the mood for dressing the part.  Announce that there will be ribbons or prizes to the best-dressed couple, the best 'Zoot Suit', and the best 'Flapper'.  Have Roaring 20s trivia during lunch periods at school during prom week and have Charleston and Swing Dance lessons during the week.
When prom night arrives, have the DJ or band play the top songs of the era and stage great photo opps as they enter with the jazz musicians, Rolls Royce, and art deco columns.  Get one of the teachers (even better the principal and vice-principal!) to dress as maître ds to escort couples to their tables.  At various locations, have the prop tables set up for additional pictures throughout the night to make for some great memories.  Since you've had the Charleston and Swing Dance lessons that week, hold a dance contest!
No matter what theme you choose, get ready to have a Roaring Good Time! Sell your tickets online for free with My School Dance! Half off processing fees for prom!
Written by Midge Brody
If you want more activities or tips for your school, check out these blog posts next: The Ultimate Prom Planning Timeline, 3 Ways To Effective Classroom Management.
But wait! That's not all. Follow us on: Facebook, Twitter, LinkedIn, Instagram, and Pinterest!
Contact:
hello@myschooldance.com
833-336-8656