Saturday Nights from April 18 – May 9
We are all affected by the closures and regulations in place due to the COVID-19 pandemic. Canceled vacations, postponed weddings, and abrupt school closures are just a few of the ways our lives have been impacted.  For high school students, social distancing means no school events – including prom.  My School Dance has teamed up with Virtual Prom Live and No Kid Hungry to bring the party to your living room while raising money for a great cause.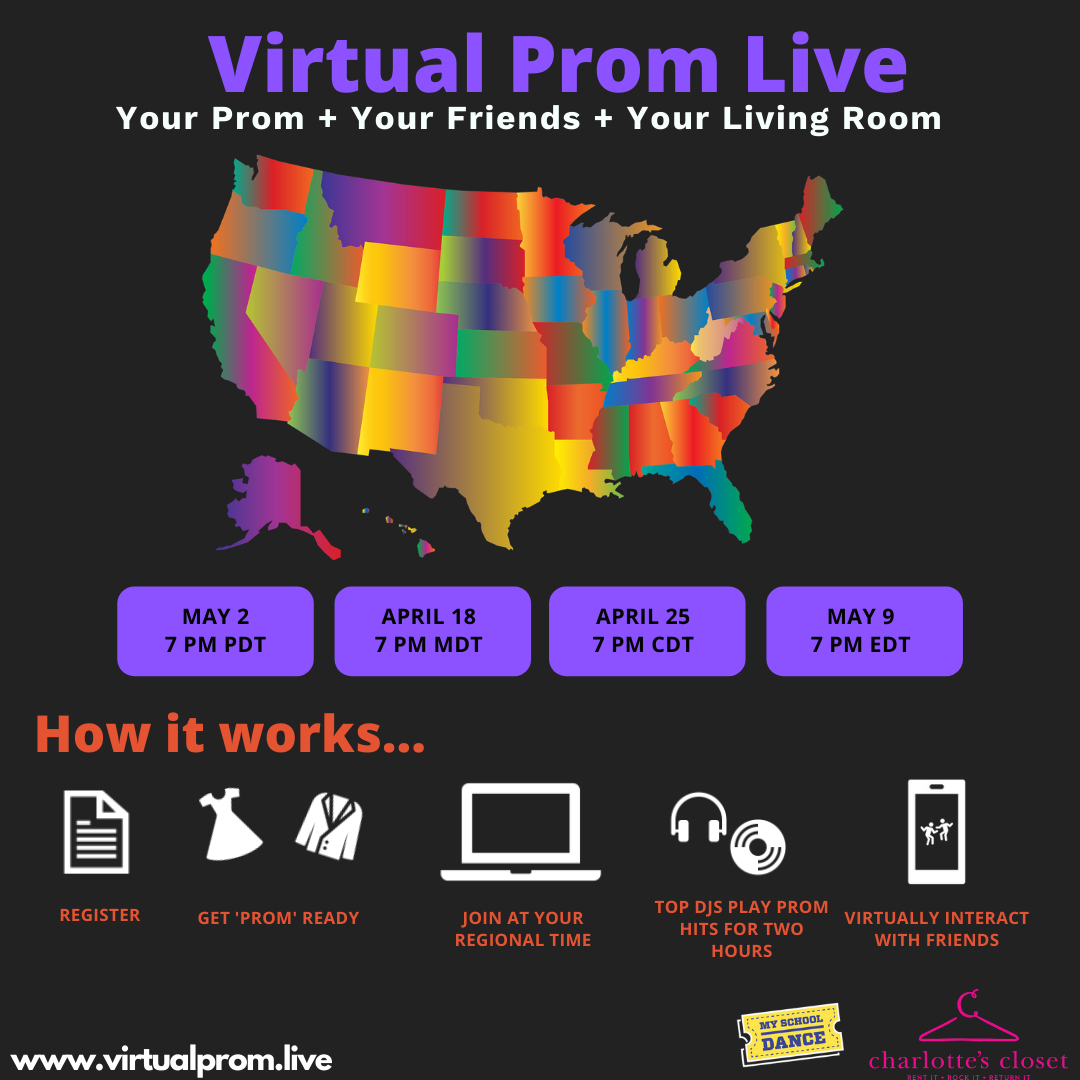 My two high school daughters have been struggling with the fact they may not see their friends again for weeks, perhaps even months.  My high school senior had already picked out a prom dress and was eagerly awaiting the big event. Then her school closed. 
I was trying to come up with a way she could still have some kind of "prom" event with her friends online, but organizing something like this was all new to me.  That's why I was so excited to learn that people far wiser than I had already planned just such an event. 
My School Dance, partnering with Virtual Prom Live, have joined forces to create not just one but a series of online prom events for students across the country.  Not only are these events free, but money being raised through donations is going towards feeding hungry families.  
Free For All
Every Saturday night from April 18 – May 9, students can participate in a virtual prom experience along with 1,000's of students across the country.  A live DJ will play music, sponsors will provide contests and prizes, and kids can dance in their living room while interacting with friends digitally.  
In addition to free registration, an online clothing boutique is also lending party attire to young ladies who may not have lined up their dress for the evening yet.  Dresses are limited, and more information can be found by contacting help@charlottes-closet.com.  
A Party For A Good Cause
Although the virtual prom events are completely free, it's a great opportunity to give to a good cause.  Donations to an organization called  No Kid Hungry are being raised to help feed people who are having difficulty during this challenging time.  What a great way to give back. I was going to suggest to my daughter that she donate some of the money she would have spent on hair, makeup and a prom ticket to  No Kid Hungry.  Thinking of the needs of others is always a great lesson for my kiddos!
How To Join The Party
Getting signed up is easy – all you need to do is visit Virtual Prom Live and choose a date that you would like to attend.  Regional events are planned each Saturday evening from April 18 – May 9.  Students can sign up for any date and time, no matter where they live. 
Each virtual prom event will feature a different DJ and start time.  For example, the virtual prom on April 18 is scheduled to begin at 7:00 pm Mountain Time.  DJ Joune, the official DJ of the Utah Jazz will be spinning tunes throughout the evening! No matter which night your student "attends," it is designed to be entertaining, interactive and memorable.
Kids can share the link and encourage their friends to register as well.  They can then interact online during the event, making it even more unforgettable.  What a great way to have fun and make a difference for others, while celebrating prom in a unique way.  It is sure to be a story our kids tell for years to come!
Check out Virtual Prom Live on Facebook, Instagram, Twitter, and TikTok (@VirtualPromLive)!
Follow us on: Facebook, Twitter, LinkedIn, Instagram, and Pinterest!
Contact:
hello@myschooldance.com
833-336-8656
Written by: Angela O'Brien